Choose the best layout tool for you
Album Studio is the new and powerful software for designing the layout of all our products. You can also decide to create our Photo Books and Photo Albums with Adobe Photoshop or Adobe Indesign.


It's our new and complete free layout software for photo books.
Designed by professionals for those who wish to create photo products quickly and easily. Available for Mac and PC
– Products: all.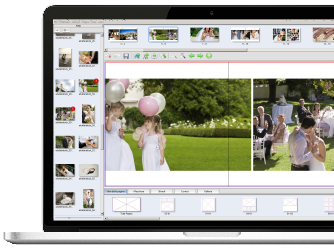 Other tools
Unleash your creativity without having to worry about technical details. Use the tools preferred by layout and photo editing professionals and send us the PDFs or JPEGs of your layout.
Adobe InDesign®
If you want complete creative control of your work and you know how to use Adobe® InDesign®, our templates are perfect for you.
(It requires Adobe InDesign)
Products: All the Photo Albums and Photo Books with no exceptions.
Adobe Photoshop®
For those using Adobe® Photoshop®, our templates provide all the information for designing the perfect album layout.
(It requires Adobe Photoshop)
Products: photo albums in the Photoflat, Digital Wedding and Wedding lines.